Real Estate
Inman Handbook On Healthy Choices For Health Insurance
As 2020 was winding down, Diane Stefan got an unwelcome notice in the mail: Her health care company was canceling her coverage.
"They said they would cover other things but they weren't covering medical any more," Stefan recently told Inman. "They didn't say why. I figured maybe it had something to do with COVID and they couldn't fund it any more."
Whatever the reason, the end of her coverage posed a unique challenge. That's because Stefan is a real estate agent with RE/MAX Dynamic Properties in Anchorage, Alaska. And like most agents, Stefan is an independent contractor, meaning she doesn't automatically get health care coverage through her job they way salaried employees do. That meant she was going to have to sift through a byzantine array of options on government health care exchanges to find something that might work.
"The lowest I found was $950 a month, and it went up to $1,700," she said, noting that the costs were only for herself, a single 61-year-old woman who exercises regularly, is in good health and has no dependents.
After the disheartening experience of searching for coverage on her own, Stefan ultimately found a plan from an insurance provider that had partnered with RE/MAX. It costs her about $430 a month and she has a $7,000 deductible. For a single healthy person the price isn't exactly cheap, but it's night-and-day better than the other options she was finding.
Stefan's experience ultimately highlights several key ways in which the real estate industry deals with health care. First, like Stefan, many agents are similarly on their own when it comes to finding and paying for benefits.
Second, the fact that Stefan ultimately found a plan through her brokerage's parent company exemplifies the way that the industry is currently evolving regarding health care. Which is to say, the issue remains an acute challenge for real estate professionals but there are also more and more solutions.
For this story, Inman spoke with agents, industry leaders and health care experts to get a lay of the land. And the takeaway is that it is a unique time for health insurance in real estate, and that knowledge about the issue is power.
Table of Contents
The scope of the issue
Despite finding a relatively affordable plan for herself, Stefan was ultimately critical of the health care landscape, particularly when it comes to real estate professionals.
"I think that insurance is outrageous," she said. "For people who are self employed it's just tough, period. It's a nightmare."
This appears to be a relatively widespread sentiment in the real estate industry. Last month, for example, a member of the popular real estate-focused Lab Coat Agents Facebook group asked industry professionals what they pay. The post ultimately generated hundreds of responses. Of those responses, a significant number were agents sharing that they spend many hundreds or even several thousand dollars per month on health care. Many other responses included agents marveling at and complaining about the high costs.
"This thread is unbelievably depressing," one commenter said.
"My biggest headache," another chimed in.
"No it's a sin," yet another agent argued. "One of the richest countries on Earth and a single person pays $600 plus for insurance."
Despite some discontent, a 2020 survey from the National Association of Realtors (NAR) shows that a majority, or 85 percent, did have health insurance last year. However, for those who didn't have coverage, the overwhelming reason cited for their lack of a plan was the cost of either premiums or deductibles.
The way that agents tend to get their health care is also telling. According to the NAR survey, 31 percent, or a plurality, get coverage from their spouse's plan. Another 21 percent are covered by Medicare, and 2 percent use Medicaid. Together, these findings indicate that well over half the industry is getting health care from somewhere outside their work.
By contrast, 9 percent of respondents get coverage from a government exchange, and another 9 percent from an insurance broker.
Finally, only two percent of respondents are getting coverage through their real estate company.
Overall the survey's findings also support the idea that there is widespread discontent with health care in the U.S.: ultimately 70 percent of respondents said they don't think the health care system is meeting the needs of most Americans.
Among other things, the survey found an array of opinions from agents on whether their specific plans were affordable or not, and what could be done to fix the current system. A majority of respondents additionally reported paying their entire premiums, and comments gathered in the survey pointed to high copays and premiums as some of the various problems with the health care system in the U.S.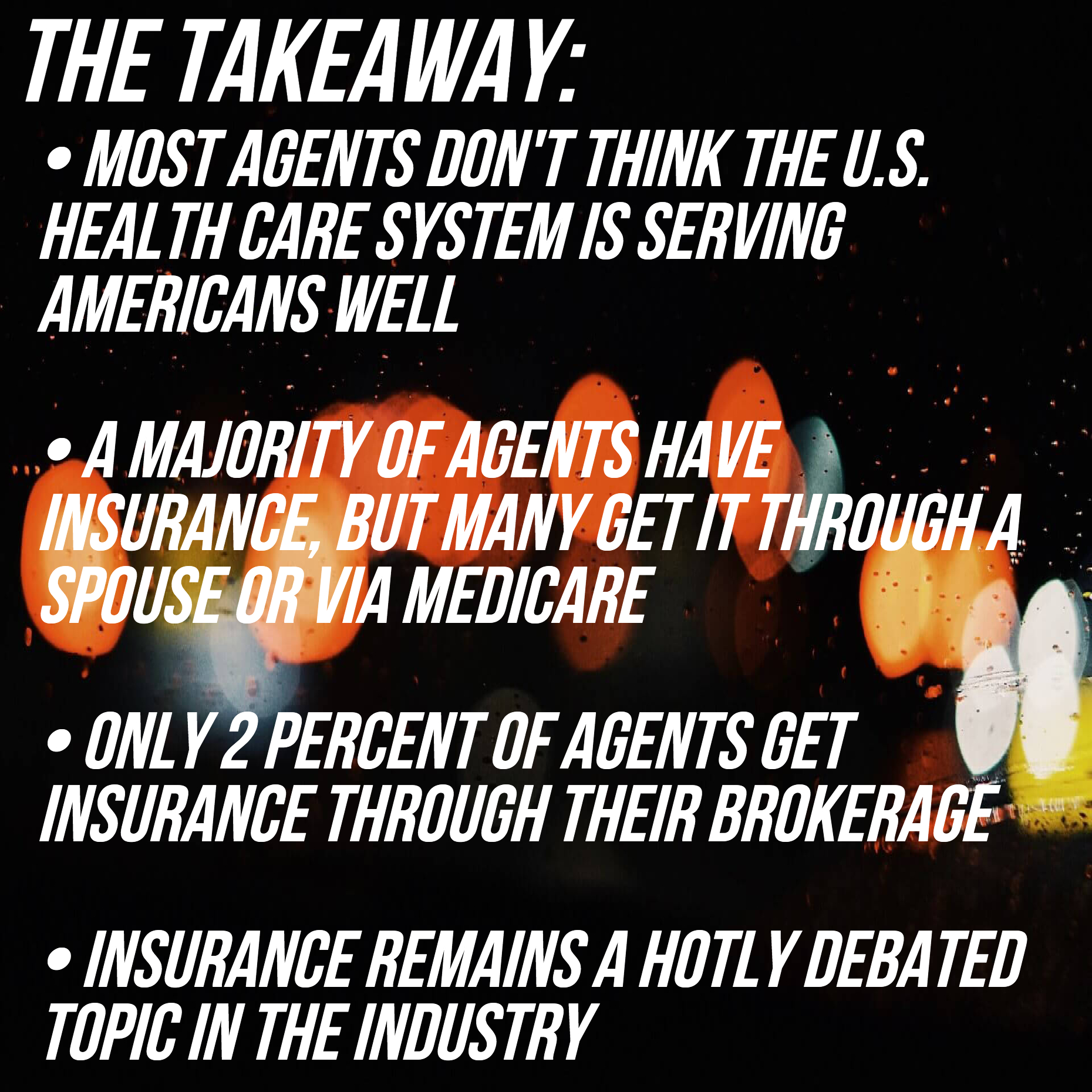 Additional resources: 
How big names are responding
The good news is that into this chaotic and challenging world, some of the largest names in real estate have in recent years begun to take a more proactive approach to health care. Take Realogy, for example, the largest company of it's kind and parent of well-known brands like Coldwell Banker and Better Homes and Gardens.
In the fall of 2019, Realogy launched an ambitious new benefits program called Spark. The company then gradually expanded the program so that it is now available to anyone working at a Realogy brand.
Simon Chen, Realogy's executive vice president of product and innovation, told Inman that Spark brings a variety of options into a single marketplace and gives agents personalized guidance on which ones to choose. Though the health care plans themselves typically have federally mandated prices, Chen explained that Realogy is able to leverage its scale to secure better deals on other kinds of insurance, such as dental or vision.
Chen went on to say that adoption of the program "is not what we would have hoped for, maybe, out of the box."
The NAR survey findings may offer some insight into why, with so many members of the real estate industry getting coverage from a spouse or other source. But for those who are using Spark, the response has been positive, according to Chen.
"The people that have gone into it and have used it have been highly receptive," Chen said.
Realogy plans to continue promoting Spark so that agents at the company's brands are aware that they have options. The goal is to simplify what is otherwise a complicated process, even if the onus remains on the individual to find and pay for coverage.
"We're basically trying to make do with the best of a complicated situation," Chen said. "It's important to us to be able to offer agent benefits."
Other brands have similarly rolled out their own programs in recent years.
Keller Williams, for example, partners with Stride, which is a company that helps independent contractors find benefits plans. The result is similar to Realogy's offering: a kind of assisted marketplace where agents are still responsible for their own coverage, but in which experts provide help and guidance while navigating their options.
In an email, Leslie Vander Gheynst, Keller Williams' vice president of people, told Inman that the company wanted to ensure it was "taking care of our people." Gheynst touted Stride's customer service, and said "we will continue to look for ways to expand our offerings."
"Insurance can be a complicated decision, so anything we can do to help simplify that process we will do," she added.
In the case of RE/MAX, the brand doesn't have a formal program in place. However, a spokesperson told Inman the company does work with two independent insurance providers who can offer plans to agents. The options vary from office to office and from state to state, but the plan Stefan ended up with actually involved her becoming a W2 employee of an insurance provider, which then gives her access to that company's insurance.
"It's really weird how they did it," she said, adding that she had to call RE/MAX and her attorney to make sure it wasn't a scam. "They hired me as a w2 employee and they pay me $10 or $20 a month. Then they bill me for my insurance."
Stefan has only been on the plan since the beginning of the year, but so far she likes it.
Finally, NAR also operates a marketplace for Realtors to shop for plans.
For more information on these organizations' benefits options, follow these links: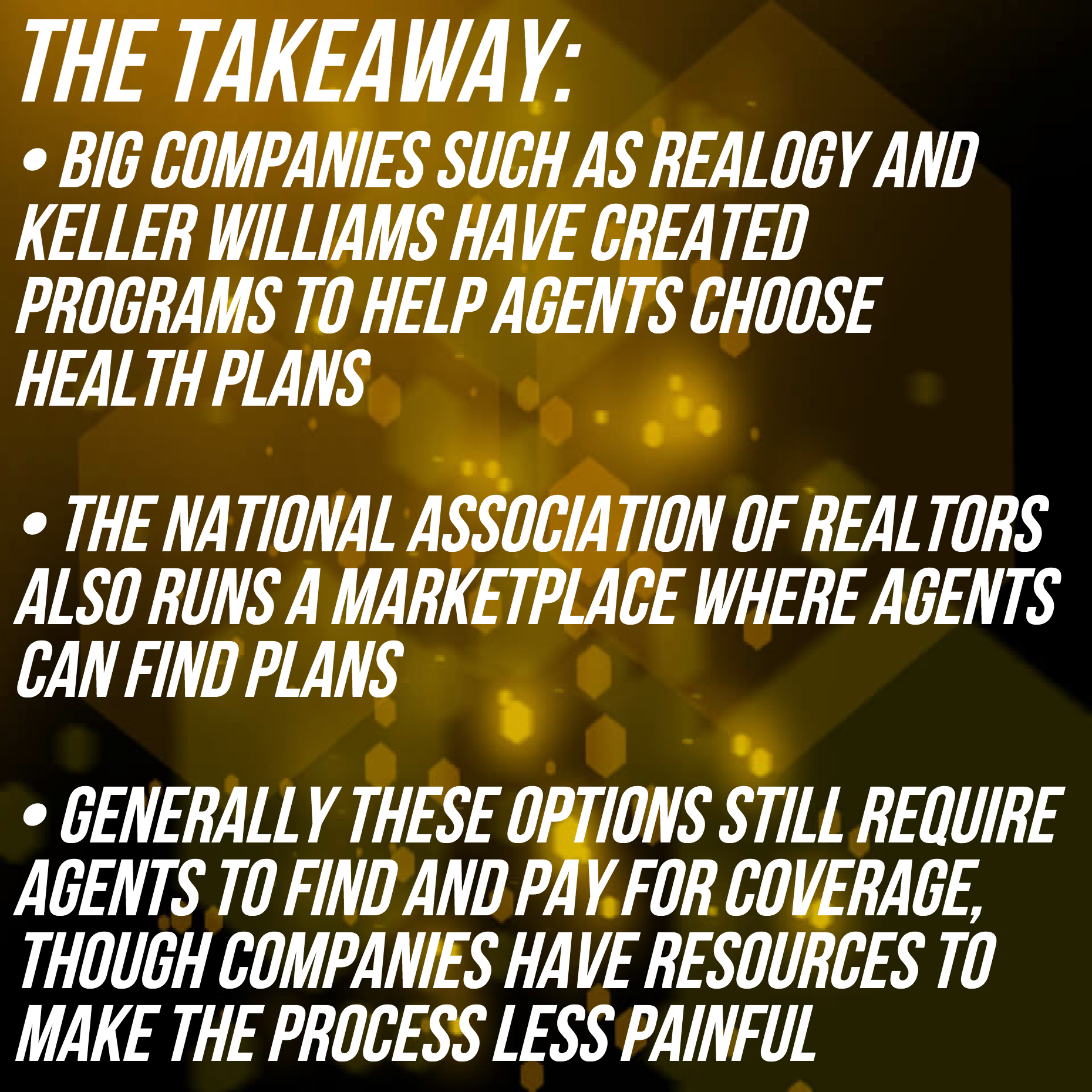 Additional resources: 
New kids on the block
While the legacy brands have increasingly worked to connect their agents to health plans, some of the newer entrants to the industry have gone further by offering options closer to traditional coverage. Probably the most prominent of these is eXp Realty, which in late 2019 began offering agents plans as an alternative to finding their own coverage on an open marketplace.
The program works through a partnership with insurance startup Clearwater Benefits, and CEO Jason Gesing told Inman it ultimately saves agents about $8,000 a year.
Agents enter the program by first going through a consultation about their options. Gesing said about 5,000 eXp agents have gone through such consultations, with roughly 4,000 opting to get benefits. That's still a small fraction of the company's roughly 45,000 agents, but Gesing said it was still important for eXp to offer something.
"For us it's a fundamental necessity," he said, adding that there's a business case for offering benefits as well. "I think to the extent that our agents can't stay healthy, they can't continue to do their work."
Gesing also said that of those who have enrolled in the Clearwater benefits, 95 percent have renewed their plan.
Even so, there are still challenges. Margo Wickersham is a vice president at Clearwater and works with eXp. She told Inman that some agents don't know that much about insurance, in part because it's such a complicated issue.
"There are literally hundreds of plans in every state, and they vary by state," she said. "There's a lot of information to know."
As a result, Wickersham said the reception to eXp's approach — which remains novel in the real estate industry — has been overwhelmingly positive.
"Relief is what we here a lot of people say," Wickersham said when asked about agents' responses. "We've had people cry."
Another company that takes a comparatively novel approach is Redfin, which is well-known for paying its agents a salary rather than commissions, and for classifying them as employees not contractors. As a result, Redfin offers its agents the same kind of benefits that employees find in other industries. That includes health care, as well as 401K options, health savings accounts, short-term disability and more.
In any other industry, these offerings would be unremarkable. But because Redfin is a real estate brokerage, it's an outlier and worth keeping in mind as part of a newer wave of companies that are rethinking how they can serve their agents.
In an email to Inman, Redfin Chief Human Resources Officer Ee Lyn Khoo said the company is "proud of the benefits we offer to our agents." She went on to describe the company's plans as "generous health insurance coverage" for both agents and their families.
"Redfin strives to be the best employer in real estate by investing in our people, their well-being and their professional growth," she also said.
Other examples of companies with novel health care programs include Compass, which in 2018 partnered with human resources company IdilusHR to offer coverage, and Homesmart, which teamed up with human resources firm Resourcing Edge for a benefits offering.
Other companies have jumped on this bandwagon as well. The overall picture that emerges — both from these newer firms and from the legacy brands' emerging options — is one in which real estate companies are increasingly touting benefits as one of their selling points. And while no one has a crystal ball, it's easy to imagine a future in which benefits play a bigger and bigger role in recruiting and retention. If that were to happen, the competition could theoretically improve the quality of benefits as well.
Not every company has a dedicated resource page on their benefits, but for more information on working at these firms, including in some cases resources on their insurance packages, visit these sites: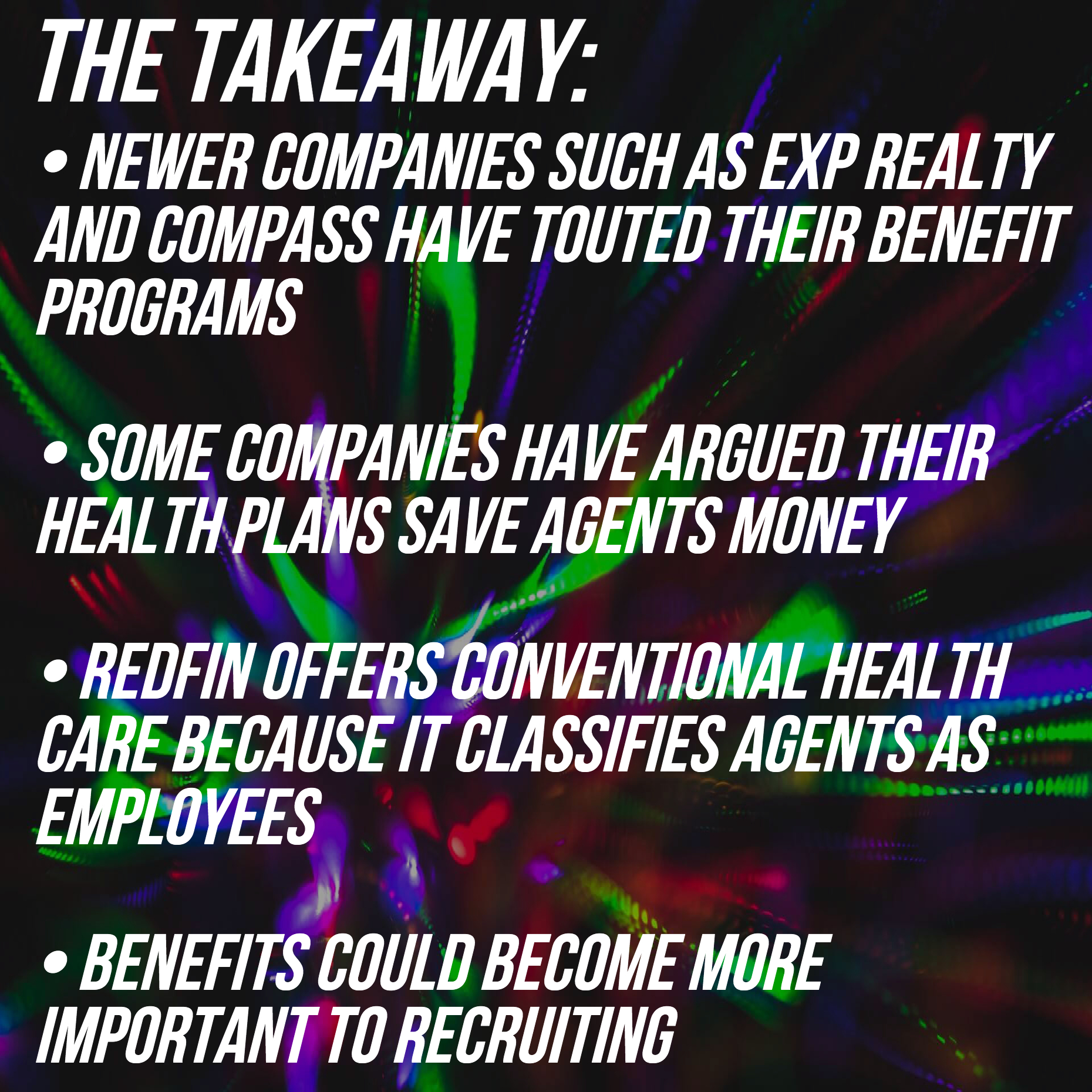 Additional resources:
Challenges remain 
Denise Townsend first became interested in real estate three decades ago, but there was one thing that stopped her from taking the plunge: health insurance.
"It was definitely an issue when I first wanted to get into the business," Townsend, who today is the principal broker of Keller Williams Sunset Corridor in Oregon, told Inman. "My daughter was diabetic and I needed good insurance. I waited to go full-time because I needed the benefits of my job. I waited four or five years, something like that."
Townsend did eventually make the move to real estate, but many other have experienced variations of that story over the years. Dave Jones is among them. Today Jones and his wife Anne Jones lead Windermere Abode in Tacoma, Washington, but prior to 2017 Jones actually worked in education — which gave him excellent insurance.
"It definitely was a pain point for a moment in time," Jones recalled of making the switch to an industry without built-in benefits.
Jones and his family ultimately went on a COBRA plan, which he said they were fortunate to be able to afford. But he said he can easily see how a lack of benefits can be a stumbling block for prospective real estate professionals.
Jones is now classified as one of four W2 employees at his company, all of whom have access to conventional health care options. The brokerage also ensures that its human resources company is available to consult with its agents about the plans that would be best for them.
However, Jones also said that while he would like to offer actual conventional plans, that's just not financially possible for a small brokerage like his, which has 26 agents. He'd like to see that change in the future.
"In a perfect world, if we could offer it for all our agents we would," he said. "But the way the business model works, it's not feasible."
Different people had different takes on what they'd like to see happen to improve the insurance landscape. Townsend, for example, said she'd like to see a system that would allow individual agents to buy into a plan, more like the way employees at a company do, as opposed to having to turn to the open marketplace.
"For me that would solve the problem," she said.
Jones proposed something similar, saying he'd like an option that allows brokers to participate. But on a deeper level, he'd also like to see health care in general become more universally available.
"I believe health care should be available for everybody," he concluded. "I believe it's a right."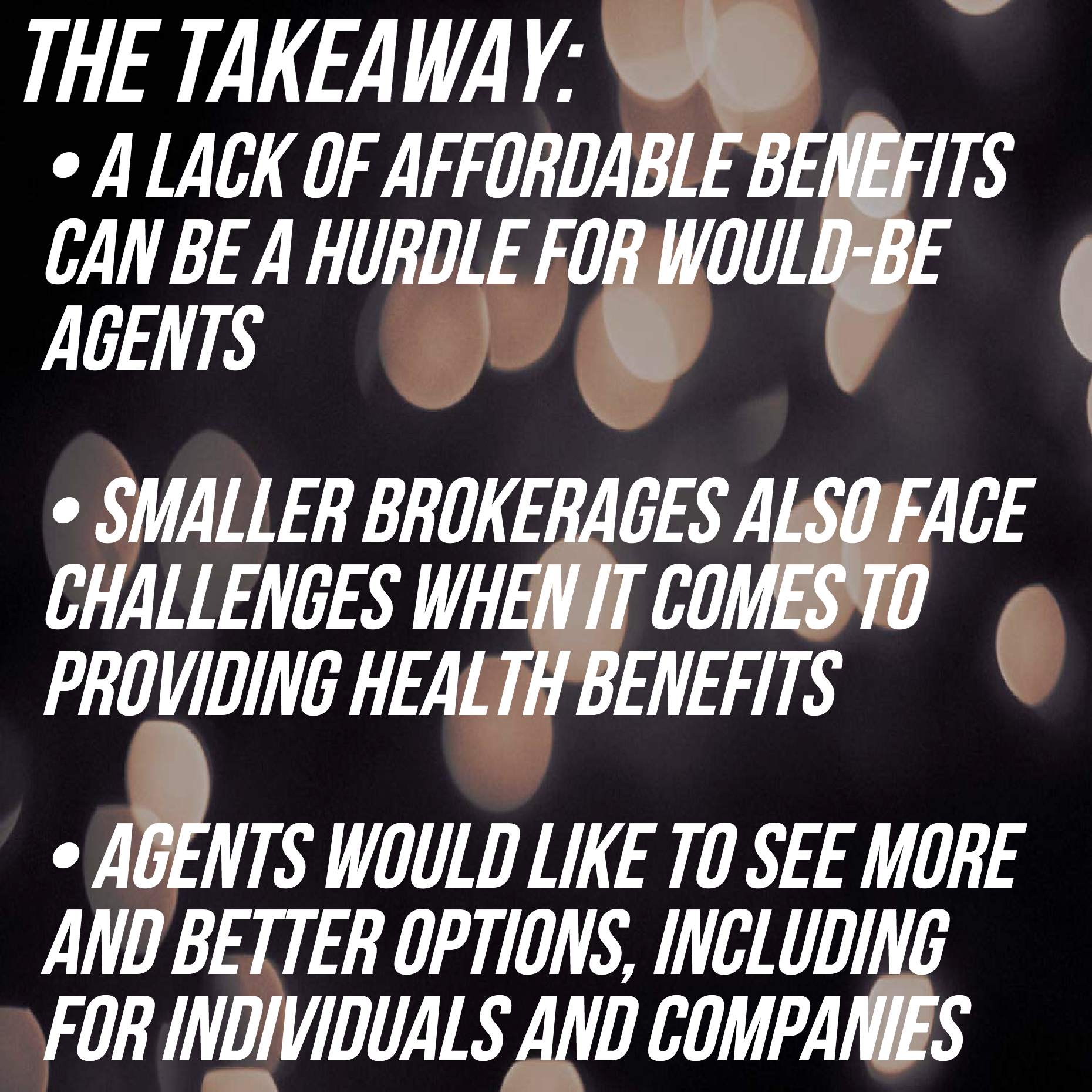 Additional resources: