The Great Resignation, as it's become known, has been a wake-up call for employers and a shift in consciousness among workers. During the pandemic, employees realized that they were no longer willing to accept certain circumstances in their job, leading many to quit resulting in a shortage of labor.
One of the primary reasons behind the Great Resignation was low wages, with many workers quitting simply because they were underpaid and often overworked. To ascertain how many workers have become focused on getting paid more, how they plan to achieve that, and how raises and ways of obtaining them differ among certain demographics, we conducted a survey of 1,003 employees throughout the U.S.
Read on to learn how our respondents felt about being underpaid in today's work landscape.
Key Findings
54% of employees believed they are underpaid due to inflation.
65% of those who asked for two or more raises in the last year received them—increasing their annual earnings by $5,000, on average.
While 57% of employees said that more PTO would make a job more appealing, only 24% have tried negotiating for more PTO.
The Problem With Low Wages
The Great Resignation was primarily viewed as being a reaction to the pandemic in the sense that employees were feeling burned out and tired of unfavorable workplace conditions. It became clear pretty quickly, though, that it was really about low wages for many workers. 
In the first part of our study, we asked respondents about their feelings on being underpaid in the current landscape, and why they feel they're not making enough.
Perhaps the most telling aspect of this part of the study was that 60% of respondents said they're underpaid; with the difference between feeling underpaid and properly compensated being $10,763, on average. There were, naturally, many different reasons that employees felt they were underpaid, ranging from their job title not reflecting the nature of their role (39%) to, simply, greed (36%).
The primary reason among respondents however, which is especially relevant at the moment, is inflation. A whopping 54% of respondents said they feel their low wages are the result of inflation, which is an issue that is still impacting millions of people across the country as inflation rates exceed 7.5%.
Getting a Raise
Knowing the right time to ask for a raise can be a bit of an art and takes preparation and planning. But there has probably never been a better time to ask for one than during the Great Resignation, when employees have had, perhaps, more leverage than ever before.
In the next part of our study, we asked respondents about getting a raise: How many they've asked for, how those raises impacted them financially, and how much more people could make in a different job or industry.
Half of employees said they'd make more money than they were making currently if they sought a job in a different field, while 42% said they'd make more by securing a different job within their current field. The industry that stood out the most was retail and hospitality, with 55% saying they'd make more money elsewhere. This figure isn't entirely surprising, considering 1 million restaurant and hotel workers quit their jobs this fall—a record high.
While going elsewhere may be the right move for some, for others who may be too invested in their job or field, asking for a raise is likely the better way to go. And it seems that it has often worked for respondents, especially in the past year amid the Great Resignation. Sixty-five percent of employees who asked for two or more raises in the past year got them, and on average, they increased their salary by $6,265. And interestingly enough, those who asked for two or more raises said that they learned how to negotiate most effectively from co-workers.
The Benefits of Needing More
To better entice workers amid the Great Resignation, employers have not only increased salaries but have also improved on the benefits they're offering workers, both current and prospective. Having better benefits like more paid time off (PTO), a more flexible schedule, better health care, and the chance to work from home can really improve all areas of an employee's life and even have a positive impact on their mental health and work-life balance.
To get a sense of what our respondents felt would make a job offer more appealing aside from salary, we asked about the specific things they wanted to see from companies, as well as how important these benefits were to them when looking for a job.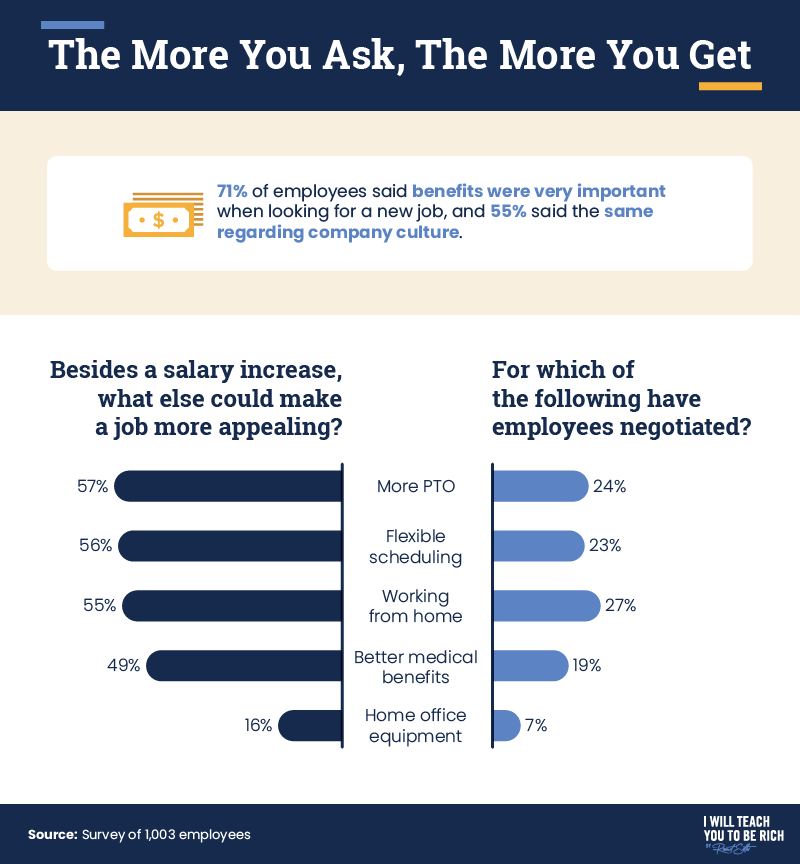 The vast majority (71%) of respondents agreed that benefits were very important when looking for a job. That said, 55% also felt that company culture was an important thing to be aware of in a job search. Overall, it seems that more PTO was the highest priority benefit (57%) that respondents said would make a job more appealing, though only 24% said they've actually negotiated for more PTO.
Fifty-six percent of employees in our study said that flexible scheduling was an appealing benefit, and 23% said they've actually negotiated for such a benefit. With the Great Resignation emphasizing the detriments of being overworked and underpaid, having a more flexible schedule is a logical priority among workers these days, as is the ability to work from home. In fact, 55% of respondents said that working from home was an appealing benefit when job searching.
Better Pay, More Financial Freedom
The fact is that low wages remain a serious problem in the U.S., though the pandemic and the resulting Great Resignation have both highlighted the importance of addressing these issues in the workforce. Our findings showed that many workers feel they're not getting paid enough, and a large portion of employees think they can make more money elsewhere. But with better benefits and an improved paycheck, employers will definitely start to see more retention across the board. Our study also shows that employees can empower themselves in this situation by asking for a raise. And for the employee, more money means a greater chance at financial freedom. At I Will Teach You To Be Rich, that's exactly what we do. We can help you—like we help people of all backgrounds—achieve financial freedom, helping you invest your money, and giving you the tools to accomplish your financial goals.
Methodology and Limitations
We collected 1,003 responses of employed people in the United States. 53% of our participants identified as men, 46% identified as women, and roughly 1% identified as nonbinary or nonconforming. Participants ranged in age from 19 to 89 years old. Those who reported no current employment or who failed an attention-check question were disqualified.
The data we are presenting relies on self-report. There are many issues with self-reported data, including but not limited to, the following: selective memory, telescoping, attribution, and exaggeration.
Fair Use Statement
If you are looking to earn more annually or know someone who is, you're welcome to share these findings. We just ask that you link back to our study and that your purposes are noncommercial.