This post is part of a series sponsored by The Cincinnati Insurance Companies.
At The Cincinnati Insurance Companies, internally driven innovation prioritizes enhancing the agent and policyholder experience. When asked to describe innovative initiatives at Cincinnati Insurance, John Crow, Vice President of Headquarters Claims, shares, "We're bringing together critical thinkers with strong problem-solving skills and giving them a platform to share ideas, come up with solutions, and test them with our customers."
To foster innovation, Cincinnati established the Strategic Innovation Group in 2018. The company also leased space at the 1819 Innovation Hub, located on the campus of University of Cincinnati, to support and house Cincinnati Insurance's 1819 venture process. Selected business-submitted concepts are run through a 12-week process of customer discovery, co-creation and testing for validation. Throughout the process, a small, cross-functional team of employees engages customers in each phase to ensure the concepts and developed applications are fully vetted and validated for market acceptance. Through this process the company has brought forward applications in support of DIY claim submission, remote inspection and aerial-based imagery.
At the company's Fairfield, Ohio, headquarters, Studio ventures offer employees who can't step away from their jobs for 12 weeks the opportunity to validate customer-focused innovation concepts through an accelerated approach. From this program, the company is experimenting with a way to give policyholders the ability to monitor their claims' progress from start to finish.
What is currently in the pipeline? Cincinnati Insurance is piloting a new 'bi-directional texting' application to allow adjusters to communicate with policyholders and claimants by text and capture all communications and documentation in the claims system. This process has required vetting of several vendors, piloting the program in the field and making sure it meets the needs of policyholders, agents, adjusters and headquarters claims staff.
In addition, the Claims department and the Strategic Innovation Group are continuing collaboration with insurtech companies Nearmap and HOVER, Inc., with the expectation of enhanced inspection and underwriting of properties by offering a DIY photo submission application to policyholders, as well as enriched aerial imagery to Cincinnati Insurance inspectors, adjusters and underwriters.
When asked how projects are chosen for these innovation programs, Brad Purnhagen, Strategic Innovation Lead, explains, "Cincinnati focuses on where there's a business impact and unmet customer need. Anytime we can find a space like that, we are going to charge hard toward that opportunity. That's clearly something that's driving impact for the organization."
Simplifying the claims process is one of the primary goals of innovation at Cincinnati Insurance. Crow adds, "We want to make it easy for our policyholders and agents to do business with us, communicate with us and provide choices that allow them to interact with us how they want to interact."
Keeping the pulse on innovation throughout the industry, Cincinnati is a member of PlugandPlay Tech Center in California, BrokerTech Ventures in Iowa and Cintrifuse in downtown Cincinnati. Celebrated for their own initiatives, Cincinnati Insurance was the first insurance carrier to be awarded a grant of $2.5 million in support of innovation from JobsOhio. To learn more about how innovation is improving the customer experience at The Cincinnati Insurance Companies, follow them on LinkedIn.
---
John Crow, Vice President, Headquarters Claims, has been with The Cincinnati Insurance Companies for 36 years and has held various roles within the claims organization. Today, John oversees the claims operations group, which supports technology, claims, analytics and statutory reporting, call center and financial operations. Follow John on LinkedIn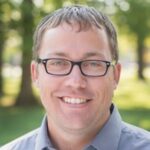 Brad Purnhagen, Strategic Innovation Lead, has been with The Cincinnati Insurance Companies for 14 years. With experience in the underwriting, risk management and corporate strategy departments, two and a half years ago Brad transitioned into his current role to help form the Strategic Innovation Group. Follow Brad on LinkedIn
Topics
InsurTech
Customer Experience
Interested in Customer Experience?
Get automatic alerts for this topic.