Insurer leads cut back charge as major brands slash impressions
Ad impressions for insurance giant GEICO have plummeted in 2023 while Progressive jumped up the rankings in a year of cutbacks for insurers, according to a recently released report.
GEICO, which took the top spot as the most-seen insurance brand in 2021 and was third in 2022, fell to fourth place in iSpot.tv's 2023 Insurance Brands TV Ad Transparency Report rankings by TV ad impressions.
GEICO's household TV ad impressions fell 70% year-on-year.
The insurer concentrated more heavily on dayparts, which include primetime, weekend afternoons and daytime slots, according to the report.
Rival Progressive moved into the top spot in the ad rankings, claiming a 22.36% share of insurance TV ad impressions, up from 15.12% for the same period the previous year.
Last year's most-seen insurance brand, Liberty Mutual, was in second with a 14.48% share, while Allstate was third with 7.1%.
State Farm held onto the fifth spot, with a shrinking 4.63% share.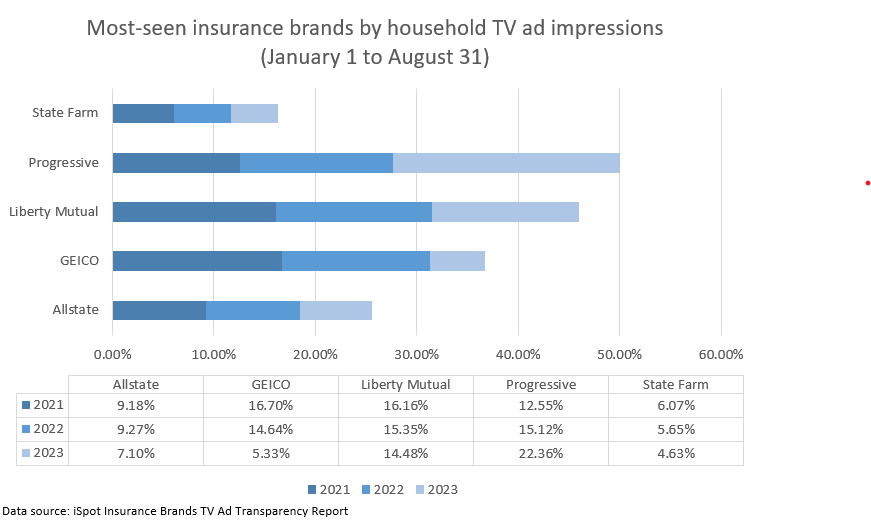 Not just GEICO – insurer TV ad impressions shrink 17%
Overall, insurers cut down on ad impressions by nearly 17% year-over-year. However, life insurance impressions jumped 16.8%, which iSpot attributed in part to growth during drama and action series, reality programming, and TV movies.
Auto and general insurance brands saw a year-over-year increased share of daytime TV ad impressions, from 16.56% to 19.43%. The shift is part of a larger advertising trend towards that daypart, iSpot said.
Meanwhile, some insurance brands appeared to view college basketball as less of a slam dunk, with a 29% reduction in men's college basketball game impressions. Brands including New York Life, Humana, and others did though see increases in college basketball impressions versus the same period during 2022.
The NBA remained the top program by insurance ad impressions, with the NFL in second, and college basketball in third. Law & Order: SVU and The Price is Right rounded out the top five.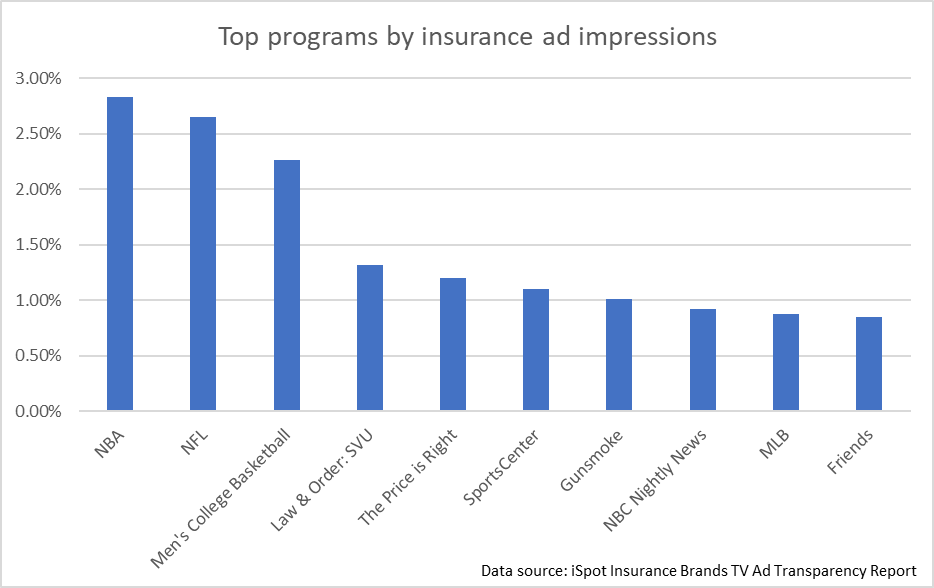 CBS top network for insurance ad impressions
CBS (8.35%), ABC (6.33%), and NBC (5.36%) were the top three networks for insurance ad impressions.
Most seen brand Progressive accounted for almost 40% of the insurance industry's impressions on NBC, as well as 30% on Fox and more than 28% on both CBS and ABC, according to iSpot.
Meanwhile, Liberty Mutual came out top in cable news, accounting for 42% of MSNBC insurance impressions and 29% on Fox News and CNN.
GEICO may have cut down overall, but it did still zone in on sports, with the insurer delivering 23% of all insurance ad impressions on ESPN.
Keep up with the latest news and events
Join our mailing list, it's free!