Credit
Citi Custom Cash Credit Card Review (New Card, 20k TYP Offer, 5x TYP on Top Spending Category)
Application Link
Benefits
20k offer: earn 20,000 ThankYou Points after spending $750 in first 3 months.
We estimate that ThankYou Points (TYP) are worth about 1.6 cents/point, see below for a brief introduction. So the 20k highest sign-up bonus is worth about $320.
Earn 5x TYP on purchases in your top eligible spend category each billing cycle, up to the first $500 spent; 1x TYP thereafter. Also, earn unlimited 1x TYP on all other purchases.
5x eligible categories: Restaurants, gas stations, grocery stores, select travel, select transit, select streaming services, drugstores, home improvement stores, fitness clubs, live entertainment.
No annual fee.
Disadvantages
It has foreign transaction fee, so it's not a good choice outside the US.
The upper limit for 5x return ($500 in spending) is quite low.
You can only have one Citi Custom Cash card.
Introduction to TYP
You can earn TYP with Citi Prestige, Citi Premier, Citi Rewards+, Citi ATT Access More, etc.
You can add all these cards into the same thankyou.com account, and points that are about to expire will be redeemed first in the order in which they expire automatically.
In most cases, TYP never expire. But closing account, product change, or receiving points from other people may cause TYP on that account to expire.
If you have Citi Prestige or Citi Premier, TYP can be transferred to some airline miles. The best way to use TYP is to 1:1 transfer them to Asia Miles (Oneworld) or Avianca (AV) miles (Star Alliance). Other good options are: Singapore Airlines (SQ) (Star Alliance), Flying Blue (SkyTeam), Virgin Atlantic (VS) (Non-alliance), etc. If you use TYP in this way, the value is about 1.6 cents/point.
If you have Citi Prestige, you can redeem your TYP at a fixed rate 1.25 cents/point towards air tickets on thankyou.com. This is a common way to use TYP. Points+cash is available when redeeming for air tickets, so no need to worry if you do not have enough TYP.
You can redeem your TYP at a fixed rate 1 cents/point towards cash.
In summary, we estimate that TYP are worth about 1.6 cents/point.
For more information about TYP, see Maximize the Credit Card Points Values (overview), and Introduction to TYP: How to Earn & Introduction to TYP: How to Use (very detailed).
Recommended Application Time
[1/24 Rule] Bonus is not available if you received one for opening a new Citi Custom Cash℠ Card account in the past 48 months.
[8/65 Rule] You can apply for at most 1 Citi cards every 8 days, and at most 2 Citi cards every 65 days, no matter approved or not.
Citi values the number of recent hard pulls a lot, we recommend you apply when there's less than 6 hard pulls in the past 6 months.
This is one of the most easiest Citi card to get, but we still recommend you apply for this card after you have a credit history of at least half a year.
Summary
这张卡有点意思。每个月自动选消费最多的 category 5x TYP,上限 $500。自动 5x 可以给持卡人省一些麻烦,其余 5x 卡都是指定类别然后轮换。算是 Citi 和 Chase Freedom Flex 完全对打的产品,可以很好补充其他卡在这个季度没有的类别或者提升季度上限。唯一的小遗憾是 5x 类别限定在列表中了,不是随随便便消费个啥就能被自动 5x。
既然是无年费,上限肯定不会太高,但每个月 $500 其实和每个季度 $1500 是一样的。对 Citi TYP 体系是一个很有力的补充,而且申请这张卡不会影响 Citi Prestige, Citi Premier 的24个月限制。目前看文字 Citi 只允许只有一张 Citi Custom Cash 卡,是否可以通过转卡获得多张需要数据点验证。如果你有意愿攒 TYP 点数,强烈推荐把 Citi Custom Cash 加入到钱包里!
如果你有其他已经不怎么用了的 Citi 卡,也可以选择转卡成此卡。
This card is interesting, you can earn 5x TYP on top spending category automatically, up to $500 in spending per month. This card is a competitor of 5% cashback cards such as Chase Free Flex and Discover it. It is a good choice for the categories which you don't have 5% cashback card for. The 5x categories must be in the list of eligible categories, which is a limitation. The upper limit is quite low, but $500 per month is actually similar to the industry standard $1,500 per quarter. This card is a good card to have for Citi TYP points system, and it does not affect the bonus eligibility for Citi Premier and Citi Prestige. Therefore, in summary, this card is very recommended if you are interested in the Citi TYP points system!
If you have other Citi cards that you no longer use, you can consider to convert it to this card.
Related Credit Cards
Historical Offers Chart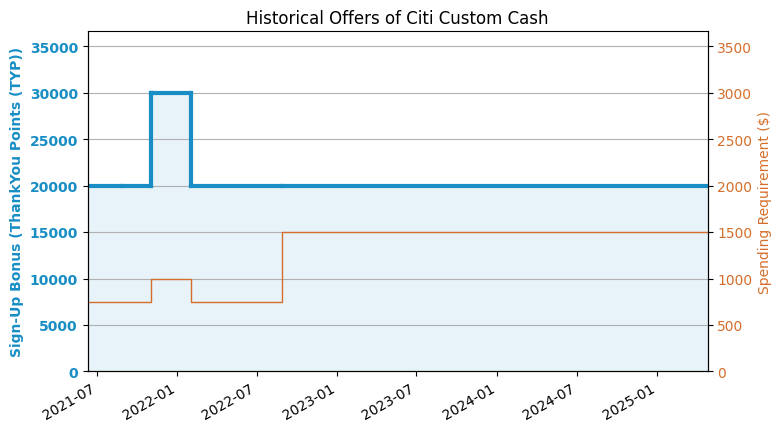 Application Link
---
Share this post with friends
If you like this post, don't forget to give it a 5 star rating!
[Total: 

0

   Average: 

0

/5]