Bicycle insurance provides financial protection against a host of bike-related issues. While coverage is not legally required, it may be worth considering for certain types of cyclists. 
How does bicycle insurance work?  
Bicycle owners can access bike insurance in two ways: 
Their existing home insurance policy 

A standalone bicycle insurance 
Bike coverage under home insurance 
Standard homeowners, renters, and condo insurance plans typically provide coverage for bicycles under the personal property section of the policies. These, however, offer limited protection and lower coverage limits compared to specialist bike cover. While this type of protection may suit casual riders, avid cyclists with modified and expensive bikes may find coverage inadequate.  
For those who own high-priced bikes, the Insurance Information Institute (Triple-I) recommend purchasing a rider that allows them to schedule personal property. Home insurance policyholders typically use this type of endorsement for high-value items as it allows them to boost coverage.  
Standalone bike insurance  
The recent cycling boom brought about by the pandemic has created a niche market for bicycle insurance. Standalone bike policies have higher coverage limits and provide tailored protection specifically designed for cycling enthusiasts. This, of course, has a corresponding impact on premiums. 
What does bike insurance cover? 
Personal property coverage under home insurance policies typically provides protection against theft and vandalism, with the claim amount depending on whether the plan covers actual cash value or replacement cost.  
For bike damage, policies kick in depending on the situation. Some scenarios covered under homeowners, renters, and condo insurance include damages sustained in a vehicular accident while the bike is being transported and if the bike is destroyed in a house fire. Home policies do not cover instances when the cyclist crashes into an object like a tree or another vehicle. For the latter, they can file a claim against the at-fault driver's liability coverage under their car insurance policies. 
Want to learn more about the different kinds of protection auto insurance and other types of insurance policies provide? Check out our comprehensive insurance guide.   
Standalone bike insurance policies, meanwhile, provide coverage for the following: 
Repair and replacement cost: If the bicycle is damaged, stolen, or destroyed. 

Medical expenses: Hospital bills and treatment costs if the cyclist was injured while riding a bike much like personal injury protection (PIP) in auto insurance. 

Personal liability: For injuries the cyclist causes others.  

Event entry fee cancellation: Reimburses entry fees if the cyclist was injured in a covered incident prior to the competition, preventing them from participating. 

Uninsured motorist coverage: Just like UM coverage in a car insurance policy, this covers the cyclist if they are injured by an uninsured driver. 
Some specialized bike insurance policies also offer roadside assistance services and taxi fare reimbursement if they can no longer use their bicycles to get home. 
How much does bike insurance cost? 
Bicycle insurance premiums typically range from $100 to $300 a year in the US. Rates depend on a variety of factors, including how much the bike costs. In Canada, annual premiums may be equivalent to between 3% and 7% of the bicycle's total value, while in the UK, coverage costs about £50 for a bike worth £1,000.   
Who needs bike insurance? 
Taking out separate bike insurance is not for everyone. According to industry experts, coverage may be worth considering if the bike owner: 
Races competitively 

Does not have homeowners' or renters' insurance 

Frequently rides off-road 

Has spent a lot on expensive upgrades and modifications 

Has a high-priced bike that costs more than the coverage limits on their home insurance 
E-bike insurance provides mostly the same coverages as that for regular bicycles. It is also not mandatory for riders to purchase. But because these two-wheelers run on some type of engine, some states have drafted laws regarding its usage. 
How does e-bike insurance work? 
Similar to regular bicycles, e-bike owners can access coverage for their units through their homeowners, renters, or condo insurance's personal property section. They can also schedule their e-bikes for enhanced protection. Standalone e-bike insurance is likewise available.    
What does e-bike insurance cover? 
Comprehensive e-bike coverage offers the same protection as that for standard bicycle policies. These can include the following: 
Theft and vandalism 

Accidental damage 

Crashes and collisions 

Liability  

In-transit damage 

Spare parts losses  

Cycling apparel damage or theft 

Roadside assistance 
How much does e-bike insurance cost? 
Here's a cost breakdown by country: 
US e-bike insurance premiums typically start at $100. 

UK policies go for £50 upwards.  

In Canada, annual rates for comprehensive coverage begin at $140.  
The e-bike's value and the local regulations regarding coverage and usage are the primary factors affecting premium prices. 
When do you need e-bike insurance? 
Several US states have established classification systems for e-bikes to distinguish them from similar types of two-wheelers such as mopeds and scooters. These 26 states have adopted a three-tier e-bike classification system that governs many aspects of ownership, including age limits for riders, and requirements for helmets, licenses, registration, and insurance.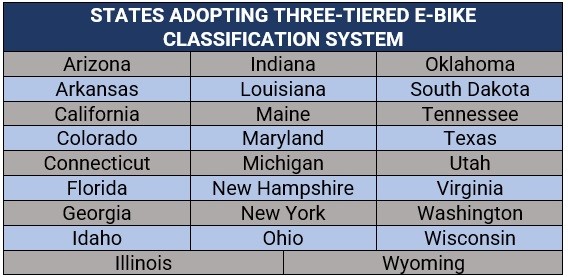 These are the three classifications of e-bikes that the states mentioned above use, according to the National Conference of State Legislators (NCSL). 
Class 1: E-bikes with motors that provide pedaling assistance for up to 20 miles per hour. 

Class 2: E-bikes with motors that can provide pedaling assistance or power the unit without pedaling up to 20 miles per hour. 

Class 3: E-bikes equipped with speedometers and motors that provide pedaling assistance up to 28 miles per hour. 
E-bike owners are advised to contact their state's insurance department or a licensed insurance agent or broker to better understand local coverage requirements for their two-wheelers. 
Motorcycle insurance is a legal requirement for anyone riding their two-wheelers on the road – and for good reason. This type of coverage helps protect riders against liability if their vehicles are involved in an accident and provides financial compensation if their bikes are stolen or damaged. 
What does motorcycle insurance cover? 
The minimum requirement for US motorbike riders is liability coverage. Most policies offer other types of protection, but these are optional, according to Triple-I. These are the most common types of coverages available for motorcycle owners. 
Liability insurance: Required in most states, this type of policy provides compensation for bodily injury and property damage (BI & PD) that the motorcycle rider causes to others. Coverage, however, excludes losses and injury that the biker sustains.  

Guest passenger liability coverage: Pays out for medical treatment for injuries sustained by a passenger. 

Collision coverage: Covers damages to the rider's motorcycle after a road accident, regardless of who is at fault.  

Comprehensive coverage: Pays out the cost to repair or replace the motorcycle for damages resulting from events other than road accidents such as fire, theft, vandalism, or flooding.  

Personal injury protection: Pays for the rider's medical expenses after an accident, no matter who is at fault.  

Uninsured/underinsured motorist (UM/UIM) coverage: Covers the rider for losses they incur after an accident if the at-fault driver is uninsured – does not have insurance – or underinsured – does not have enough insurance. UM/UIM policies also pay out for medical expenses, lost wages and, in some cases, property damage. 

Customized motorcycle parts coverage: Covers any accessories or custom enhancements that the owner makes on their motorcycle, subject to limits. 
How much does motorcycle insurance cost? 
Just like in other types of bike insurance, there are several factors that impact the premium prices of motorcycle insurance. These include: 
The rider's age 

The rider's driving record 

The type of motorbike 

The motorcycle's age 

Annual mileage 

Where the motorbike is parked 
Typical price ranges by country are: 
US premiums start at about $60 per month or $720 annually.  

UK prices range between £340 and £850 per year. 

Canadian average is around $1,600 yearly.  
You can get useful tips on how to slash motorcycle insurance costs by reading our practical motorbike premium-reduction guide. 
Is insurance cheaper for bikes or cars? 
While the market value of a motorcycle is significantly less than that of cars, the cost of insurance is typically higher due to the two-wheeler's risk exposure. Because some motorbikes can accelerate faster and reach much greater speeds compared to other types of vehicles, accidents involving motorcycles can likewise be more destructive and devastating. 
Data gathered by Triple-I has shown that motorcycle riders are five times more prone to injury and 29 times more likely to die due to an accident than someone driving a car. Premium prices, however, go down for inexpensive motorbikes that run on less powerful engines.   
You can work out how much motorcycle insurance you need by checking out this guide. 
Are you an owner of a bicycle, e-bike, or motorcycle? Do you think taking out coverage is worthwhile and necessary? Hit us up in the chat box below for your thoughts.