Credit
Amex Business Gold Card Review (2021.2 Update: 70k Offer)
2021.2 Update: The new offer is 70k, plus advertising and shipping credit up to $150 each.
2020.10 Update: There is a 60k offer now, the offer is higher than the previous 50k offer but the spending limit is also higher.
Application Link
Benefits
70k offer: earn 70,000 MR points after spending $10,000 in the first 3 months. Plus, earn up to $150 back on both U.S. advertising in select media and U.S shipping, for a total of up to $300 in statement credits on eligible purchases within the first 3 months.
We estimate that Membership Rewards (MR) are worth about 1.6 cents/point, see below for a brief introduction. So the 75k highest sign-up bonus is worth about $1,200!

[New]

Earn 4X Membership Rewards points on the 2 categories where your business spent the most each billing cycle from the list below, plus earn 1X on other purchases. 4X points applies to the first $150,000 in combined purchases from these 2 categories each calendar year Then earn 1 point per dollar.

U.S. purchases made directly from select technology providers of computer hardware, software, and cloud solutions. The following merchants are included: Apple, CDW, Dell, HP, IBM, Intuit, Lenovo, Microsoft, Newegg, Oracle, Rack Space, Sage Software, Salesforce, SymantecTiger Direct.
U.S. purchases for advertising in select media (online, TV, radio)
Airfare purchased directly from airlines
U.S. purchases at gas stations
U.S. purchases at restaurants
U.S. purchases for shipping

[New] 

25% AIRLINE BONUS: You can receive 25% of Membership Rewards points back after you use Pay With Points for all or part of a flight booked with American Express Travel if the flight is either on your selected qualifying airline or First or Business class, up to 250,000 points back per calendar year. If used in this way, MR points are worth about 1.33 cents/point when redeemed for travel (calculation: 1/(1-25%)~1.33).
With this credit card, you can get access to Amex Offers, which often offers very good discounts at some stores. In the past we have seen offers like: Spend $15 or more and get $5 back at Walmart; Spend $75 or more and get $25 back on Amazon.com. Note that there often are Amex offers targeted exclusively to BUSINESS cards!
Purchase Protection — eligible purchases are covered against accidental damage or theft for 90 days, up to $1,000 per occurrence with the Business Gold Rewards card.
Extended Warranty — one additional year of warranty service beyond the manufacturer's warranty if the original warranty lasts for 5 years or less.
Baggage Insurance — up to $500 worth of insurance for lost or delayed checked bags and $1,250 for carry-ons.
Premium Roadside Assistance — pays for emergency automotive services up to four times per year, including flat tire change, jumping a battery, and towing your car up to 10 miles.
No foreign transaction fee.
This card is relatively easy to get approved for because it is a charge card, not a credit card. This means means that you are not issued a credit line upon approval (therefore there is no pre-set spending limit), and you are required to pay your balance in full on the due date.
AMEX has a very loose definition of what constitutes a "business," which supplements the bullet above. If you apply as a sole-proprietor, AMEX makes you select an annual income for your business between $0 – $49,999. If you sell anything (including your time or skills), you may have a business. AMEX allows the use of your social security number (SSN) instead of a tax identification number (TIN) for sole-proprietor applications.
Refer a friend: You can earn 20,000 bonus MR points for every approved account you refer, up to 55,000 MR points per calendar year.
Disadvantages
$295 annual fee, NOT waived the first year. (Previously it was $175 before 2018.11)
$50 fee (waived the first year) for the first authorized user on your account, no fee for up to 98 additional user cards.
Introduction to MR Points
You can earn MR points with AmEx ED, AmEx EDP, AmEx Green, AmEx Gold, AmEx Platinum, AmEx Platinum for Schwab, AmEx Platinum for Morgan Stanley, AmEx Blue Business Plus, AmEx Business Green, AmEx Business Gold, AmEx Business Platinum, etc.
The MR points you earn on different MR cards will automatically go to the same MR account.
MR points never expire. You will not lose the MR points on one card if you close the account, but you will lose all of the MR points if you close all of the MR cards. In order to avoid losing your MR points, we recommend to keep the no annual fee AmEx ED.
If you have any of the MR cards, MR points can be transferred to some airline miles. One of the most common and best way to use MR points is to 1:1 transfer them to All Nippon Airways (ANA, NH) miles (Star Alliance). Other good options are: Air Canada (AC) (Star Alliance), Delta Air Lines (DL) (SkyTeam), British Airways (BA) (Oneworld), Asia Miles (Oneworld), Singapore Airlines (SQ) (Star Alliance), Flying Blue (SkyTeam), Virgin Atlantic (VS) (Non-alliance), etc. If you use MR in this way, the value is about 1.6 cents/point.
If you have any of the MR cards, you can redeem your MR points at a fixed rate about 1 cent/point towards air tickets on AmEx travel portal.
If you have AmEx Platinum for Schwab, you can redeem your MR points at a fixed rate 1.25 cents/point towards cash. If you don't want to spend time studying airline miles, this is a pretty good way to cash out the points. If you don't have this card, you can only redeem your MR points at a fixed rate 0.6 cents/point towards cash.
In summary, we estimate that MR points are worth about 1.6 cents/point.
For more information about MR points, see Maximize the Credit Card Points Values (overview), and Introduction to MR: How to Earn and Introduction to MR: How to Use (very detailed).
Recommended Application Time
You can only get the welcome bonus once in a lifetime, so be sure to apply when the historical highest offer appears.
AmEx doesn't care about the number of hard pulls.
You can try to apply for it when you have a credit history of 6 months.
Summary
The 50k MR sign-up bonus are worth an estimated $800 if transferred to airlines, or $625 when cashed out at 1.25 cents/point with the AMEX Platinum for Charles Schwab. Note that MR earned with AMEX business cards pool with MR earned with personal cards. If you decide to cancel and want to keep your MR, you can apply for the AMEX EveryDay (ED) (no annual fee) to keep the MR points for use in the future (with no annual fee).
Recommended Upgrade Options
Most (all?) people receive an offer to upgrade this account to the AMEX Business Platinum card within the first year while earning 50,000 MR after spending $10,000 (even if you have already received a sign-up bonus on the AMEX Business Platinum). This is a great way to acquire the benefits of the AMEX Business Platinum, along with a signup bonus, even if you've already had that card. If you have not had the AMEX Business Platinum card before, it is highly recommended that you apply for that product before upgrading, as upgrading and receiving a bonus will negate your ability to receive the 75,000 MR to 150,000 MR signup bonus on the AMEX Business Platinum. Note that, when you upgrade, AMEX does NOT do a hard-credit pull!
Recommended Downgrade Options
You can not downgrade this card to any card with no annual fee, so I suggest you close it when you don't want to keep it any longer.
After Applying
Click here to check application status.
AMEX reconsideration backdoor number: 877-399-3083
Historical Offers Chart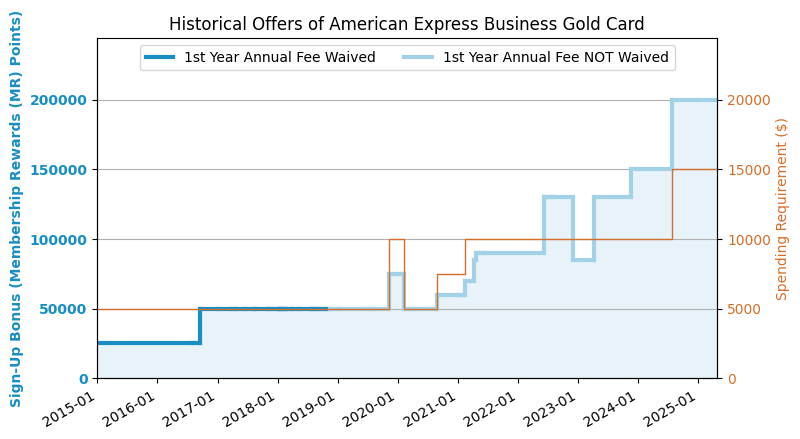 Application Link
---
Share this post with friends
If you like this post, don't forget to give it a 5 star rating!
[Total: 

3

   Average: 

4

/5]