Even if you can't mingle with the crowds at your local cafe, you can experience going out while staying (very) close to home.
In this current moment when many of us are staying home, one of the best remedies to help alleviate some of the stress is to head outside and get some fresh air — preferably at least six feet or more away from your neighbor. If you're lucky enough to have an outdoor space, whether you have a sprawling backyard or a smidgen of a patio, make the most of it with these seven ideas for improving your outdoor area.
Curate an outdoor lounge space
Had to cancel a beach vacation you planned for spring break or summer? Set up an outdoor lounge space on your patio or in the yard to give your outdoor space a tropical feel. You can either scour the internet for lounge chairs, chaise lounges, hammocks and outdoor sectionals, or create your own, like a one-of-a-kind outdoor lounge bed. All you need to complete this project is a platform bed frame, a futon mattress and outdoor fabric to cover it. (If you're not handy with the sewing machine, this would be a simple task for a local upholsterer to tackle.) Plop some outdoor pillows on top for added comfort and style. 
To complete your lounge, add in some side tables, a few candles and maybe a glass of wine to create that all-inclusive atmosphere.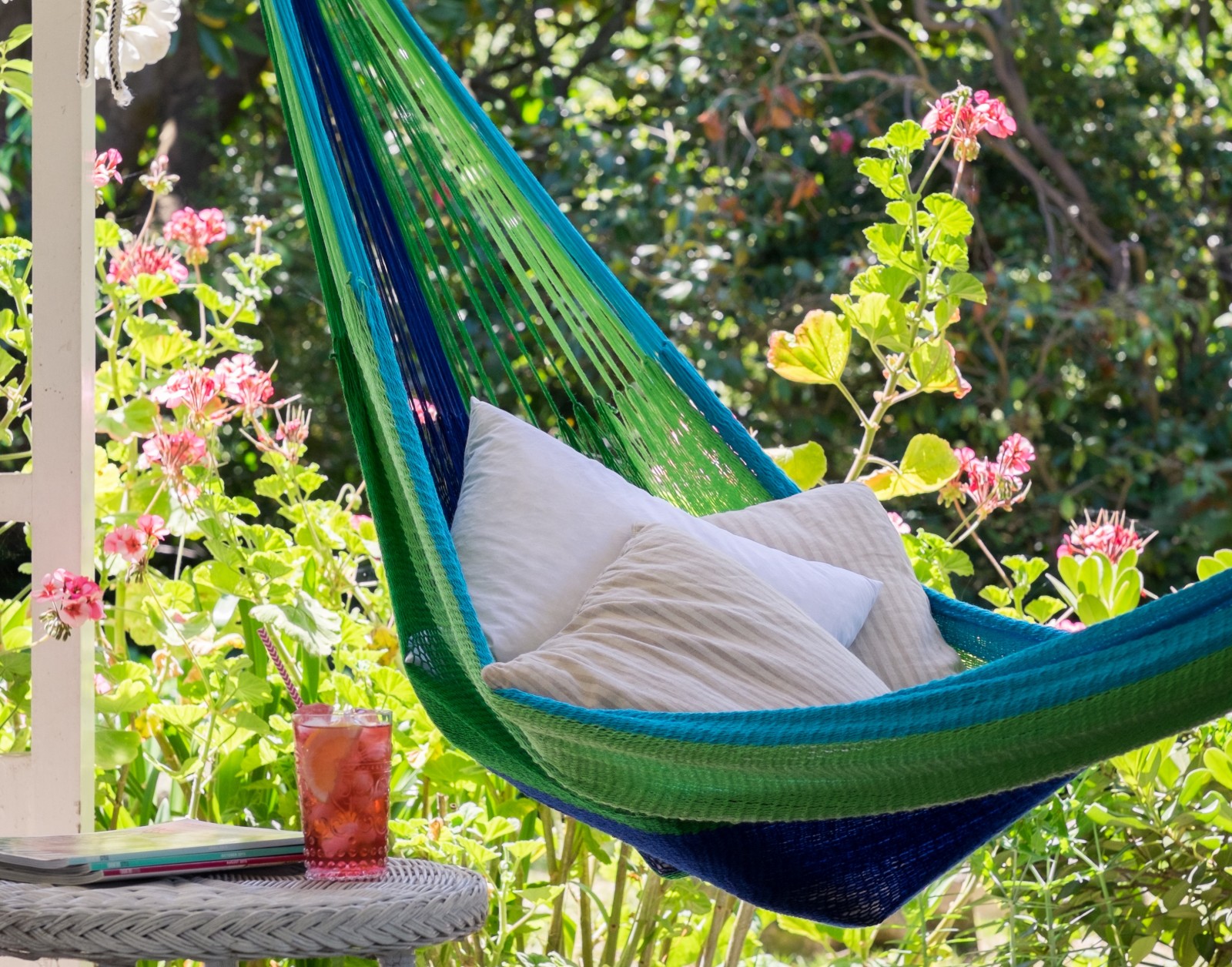 DIY outdoor movie theater
The movie theaters may be off limits for now, but that doesn't mean you can't re-create the experience in your own private outdoor space. Though you've likely seen elaborate backyard movie theater setups, it doesn't have to be complicated: All you need is a white sheet that can be tautly mounted on a flat surface (a shed or siding on your apartment patio will do just fine), a projector and your phone to play movies, TV shows or whatever else you're binging these days. 
Don't have access to a projector? It's surprisingly simple to make one out of a shoe box, some cardboard and a magnifying glass. Round up your favorite patio chairs or arrange your outdoor cushions, make some popcorn and enjoy your movie with the background noise of the crickets chirping.
Create an outdoor bar
It may be a while before you can go back to your favorite dive bar or swanky cocktail lounge, so why not create your own for your outdoor space? You can, of course, buy a bar online, or you can repurpose an old table or desk — or even get crafty with some cinder blocks, concrete glue and a few 1 x 6 boards to create your very own. Gather your Bluetooth speaker, your favorite cocktail ingredients and a few glasses to get the ambiance of your favorite bar right at home. Here are a few ideas for inspiration, including bars you can squeeze into the smallest of outdoor spaces. 
Beautify a barn or shed
A barn or a shed is a utilitarian structure, but that doesn't mean it has to be an eyesore. Spruce it up by painting it a bold color, attaching some shutters, adding some flower boxes, installing a stone path or even stringing up some lights to zhuzh up that forgotten space in the backyard.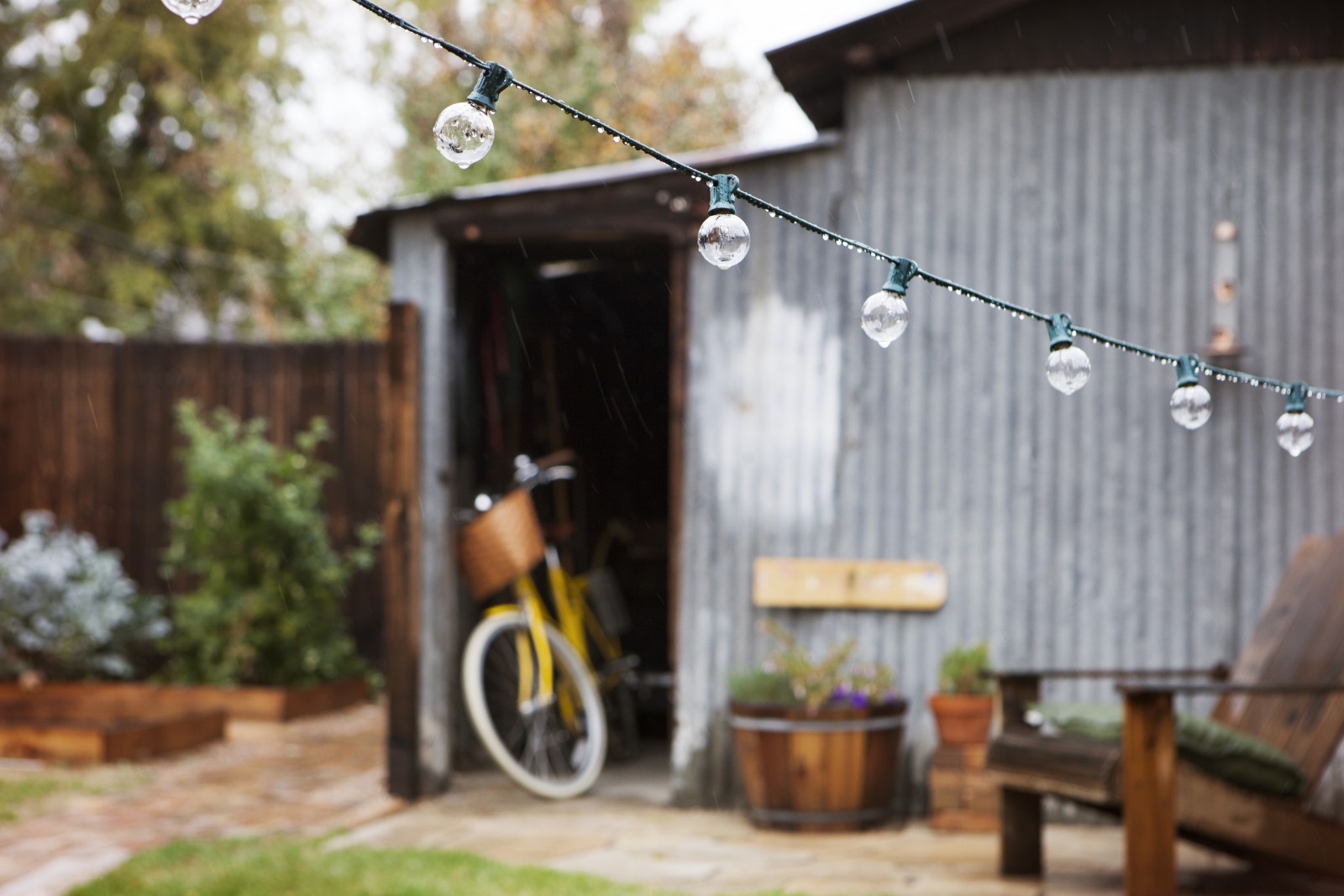 DIY fire pit
Just because many of the state parks or campsites are closed doesn't mean you have to miss out on everyone's favorite camping activity: the campfire. You can easily create a DIY fire pit for your backyard in seven steps, which only requires a few supplies you can pick up curbside at your local home improvement store. Not a big DIYer? You can always buy a prefab fire bowl that's just as effective at creating that warm, cozy campfire glow.
Make an al fresco dining destination
We're all getting a little tired of eating in our kitchens (or, maybe in front of our televisions) night after night. Mix it up a little by making an al fresco dining destination in your backyard or patio. In addition to an outdoor dining table and chairs, lay down an outdoor rug and string up a strand of lights or craft yourself an outdoor chandelier to transform your evening meals. 

Create a meditation zone
Missing your yoga studio? You can still do a restorative practice and a shavasana at home — and make it even better by creating a meditation zone in your backyard. Plant a garden with calming scents like lavender or jasmine, create a stepping stone path to your meditation spot or even build yourself a standing tent or cabana with curtains that blow in the warm, calming breeze. 
---
Want more home inspiration?
Visit Porchlight, your source for DIY, decor, and a look inside quirky and creative unique homes.